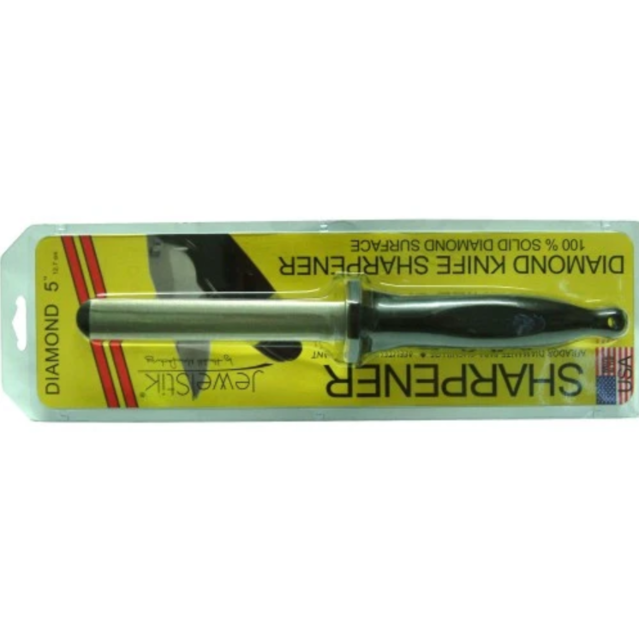 JewelStik Sharpening Steel Diamond 127mm x 20mm
125mm medium grit diamond sharpener is lightweight, well balanced and easy to use. Its lens shaped steel shaft permits more efficient sharpening than ordinary cylindrical-shaped tools by allowing more surface to be sharpened in less time. a few swipes across the shaft are all that is needed to keep a perfectly sharp edge. The edges produced are flawless, gap free, razor-sharp and long lasting. Made in USA
The best way to sharpen any knives, not just GLOBAL is by whetstone. But for fine tuning and honing you can use GLOBAL ceramic and diamond steels. Some do prefer to do full sharpening with these ceramic and diamond steels, but for optimum and most consistent results GLOBAL recommend Minosharp Whetstones. GLOBAL ceramic and diamond rods are used in the same way that traditional steels are used to sharpen other knives and, as they are made from the two hardest materials known to man, are suitable for sharpening all good quality knives. The diamond rod is harder than the ceramic rod and will bring back a knife edge quicker. The diamond rod also will not break if it is hit or dropped unlike the ceramic rod. However, the ceramic rod will give a finer edge if used regularly.
Terms & Conditions
arrow_drop_down
You must be over 18 to purchase this product
Product Enquiry
arrow_drop_down
Contact Details
Request More Information
Details of the product above will be automatically included with your enquiry.