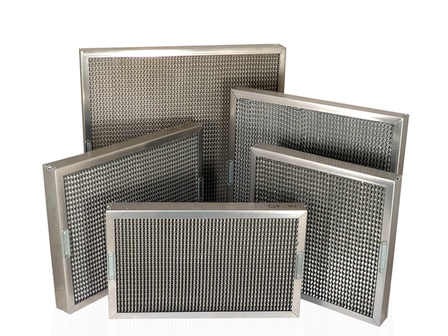 Information
arrow_drop_down
Honeycomb grease filters are made from high-quality acid-resistant aluminium throughout. The filter media is made from 50mm wide aluminium foil, which is specially corrugated into a herringbone shaped channel.
When the incoming grease-laden air passes through this media, the air changes direction. The resultant change in inertia causes the grease to cling and condense onto the aluminium surface. This prevents grease form entering the exhaust system.
This honeycomb media is encased in a 50mm thick aluminium extruded frame, which is screwed together. All frames have drain holes for the cooking fat to drain into the canopy channels. All filters are fitted with steel plated retractable handles. Large D handles, which are fitted offset, are also available on request at extra cost.
Honeycomb filters are fully washable panel filter units. They provide extremely low resistance to airflow and ease of cleaning.
Product Enquiry
arrow_drop_down
Contact Details
Request More Information
Details of the product above will be automatically included with your enquiry.