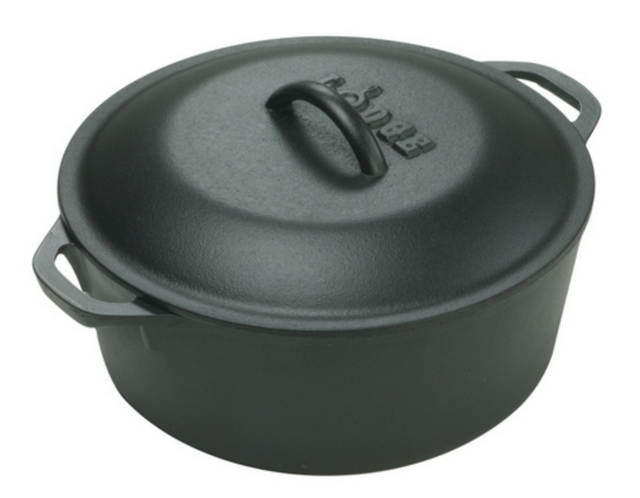 Lodge Dutch Oven Loop Handle 4.7L 26cm
This 4.7L capacity, 26cm Lodge Dutch Oven is an extremely versatile vessel. Perfect for savory stews and winter casseroles, roasts and on the outdoor BBQ. They are equally useful for crispy breads and cobblers.

All Lodge pre-seasoned Dutch ovens come complete with cast iron lids which are self basting. The looped handles make it easy for moving the Dutch ovens in and out of the oven.
Specs/Downloads
arrow_drop_down
In 1896, in the tiny town of South Pittsburg, Tennessee, U.S.A., Joseph Lodge began a cast iron cookware foundry, quickly creating an enduring standard of quality. The resulting privately held metal formula, precision molds, and exacting wall thickness produce the finest cast iron cookware available.  Not even the most expensive stainless or aluminium cookware can rival the even heating, heat retention, durability, and value of Lodge Cast Iron.  
2002 saw the introduction of Lodge Logic: revolutionary pre-seasoned, ready-to-use cast iron cookware. This set a new standard for the cast iron cookware industry, and has earned Lodge many industry accolades and awards.
Seasoned Lodge Cast Iron Cookware offers a healthy alternative to non-stick cooking, eliminates the time and effort of home seasoning, and is Ready-To-Use right out of the box.  All Lodge Cast iron Cookware is INDUCTION CAPABLE.
Lodge, America's Original Cookware.
Lodge Use & Care
Keep it dry. Keep it oiled (seasoned). Keep it 100 years.
IF YOU DO NOTHING ELSE
Hand wash.

Dry immediately.

Rub with a light coat of vegetable oil after every use. 

How much oil?  Enough to restore the sheen. 

Why!?  To keep the iron "seasoned" and protected from moisture.
SEASONING - IT ISN'T SALT AND PEPPER
"Seasoning" is a coat of vegetable oil baked onto the iron at high temperature.

"Seasoning" is not a chemical non-stick coating.

The resulting black patina provides the easy release properties.  The more you cook, the better it gets.

You may experience some sticking with new cookware so use a little oil when cooking.

"Seasoning" also provides the iron a necessary barrier from moisture to prevent rust.

Because YOU create, maintain, and even repair the "seasoning", your cookware can last 100 years or more. Chemical non-stick coatings cannot be repaired limiting their lifespan.
TO SOAP OR NOT TO SOAP
If "no soap" is too scary, consider that most cookware is 200C in 4 minutes on medium heat.  It's sterile at 100C.  However, mild soapy water is fine, if you dry and oil immediately.

DO NOT put in the dishwasher!
RUST!?  DON'T PANIC - IT'S NOT BROKEN
Without protective seasoning iron can rust.

It's really easy to fix. Scour the rust, rinse and dry, rub with a little vegetable oil.

Lots of rust?  You may have to re-season.  
WHEN IT'S HOT, IT'S HOT
Lodge cast iron keeps the heat, so turn down the temperature and save energy.

Lodge seasoned cast iron is right at home on any heat source, except the microwave.

Use induction, ceramic, electric, gas cooktops, the grill or even the campfire.
DO YOU HAVE A LODGE TEMPERED GLASS COVER?
Hi-temp plastic knob is oven safe to 200C.

The glass cover is dishwasher safe.

Do not use in the microwave.
Product Enquiry
arrow_drop_down
Contact Details
Request More Information
Details of the product above will be automatically included with your enquiry.